Some business requires you to have a separate office or a commercial storefront in an attractive location. Other businesses can be run from home. On this page, we are going to focus on what you should think about when you run a business from home.
Running a business from home allow you to work on your business whenever you have a minute over. That is not possible if you have to drive to the office to work. Working at home will unfortunately also mean that your TV is very close to your office.
Easy to get started
Working from home lowers the barrier of entry and makes it easier to start a new business. You do not have to spend money on an office or buy a lot of office supplies. You can just work with what you have at home. There are plenty of businesses that you can start with nothing but a computer or a laptop. It is even possible to start a business using a smartphone.
If you start a business at home then you can spend all your free time working on your business. This makes it easier to make your business successful. There are plenty of businesses that you can start from home that you can operate even if you are not able to work on it every day. Even if you have an unregular schedule. A business that can become successful as long as you keep working on it.
Shoe stringing a business
Working from home is a great way to make your budget go further if you are trying to shoestring a business. It reduces the money you need to spend to get your business of the ground. If you rent a separate office then you will have to pay rent, buy furniture, electronics and so on for that office. You will also need a second phone line, internet connection and so on. You can avoid all those costs by working from home where you are likely to already have everything you need.
Staying motivated
It can sometimes be hard to stay motivated if you work from home. It can be hard to separate time you are supposed to work and time you can relax and watch TV. It is easy to end up spending the day watching TV or doing things around the house rather than working.
Some people find it almost impossible to work from home and end up getting a separate office. There are a few things that you can do to help yourself stay motivated.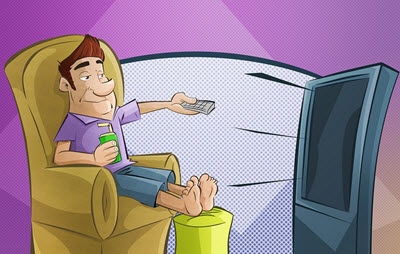 Try to stick to a schedule. If you try to work between the same hours each day then that will help to make it a habit which will make it easier to stay motivated. If you are unable to work the same time every day then it can be a good idea to tell yourself that you will work on your business every time you get some free time during a certain time span. If you get some free time outside that time span then you can relax.
Decorate a room as an office. Make sure that you only use that room for working. This makes it easier for you to stay motivated. You will know that you are supposed to work when you are in that room. It will help you to trick yourself to believe that you are at work even though you are still in your home.
Try to create good habits. Make sure to reward yourself when you have worked for a certain number of hours that day. Make working a habit that you do not have to think about. That makes it a lot easier to get it done. Teach your subconscious that it will get a reward if it works hard. Creating a habit of working hard is one of the best things you can do. This is true both for your business and for your life in general. Working hard will make you more successful and happier.
Seeing clients
It can seem unprofessional to see clients in your home. This can be mitigated by decorating a professional office in a room of your house. A room that is only used for your business and for meetings. It is important that this room can be accessed directly from the main hallway of the house. Your clients should never have to be forced to walk through your home to get to your office.
Another good option is to offer to visit the clients at their offices. This can be a very good option if you operate a business where it can be a good idea to see their business. In a business where that will allow ýou to better customize your pitch to your clients need.
A third option is to join an office pool. An office pool is a cheap way to share an office/meeting room with other business that also lacks proper offices. Members of the pool are allowed to book the premises when they need them. This gives you an office when you need it but is a lot cheaper than renting your own office.
Some entrepreneur prefers to hold their meetings in a neutral space such as a restaurant or a coffee. This can be a good alternative if you have a good establishment to use and if you offer a service that does not include confidential information. At least not during the initial meeting. Going out to take a cup of coffee can be a good informal way to get to know each other and pitch your business.